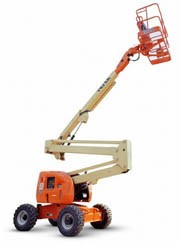 Worksafe WP Licence
2017-03-15 11:56:31
Boom type elevating work platforms (11 metre and over) require a Licence to Perform High Risk Work (category WP). Please note that this licence does not cover the holder for the operation of scissor lifts or vertical lifts. Participants will also be able to identify the safety requirements for operating Boom-Type Elevating Work Platforms and their working environments as well as being able to apply a working knowledge of the OH&S and regulatory requirements in accordance with Worksafe standards.
This course requires the operator to:
• Plan work.
• Conduct routine checks.
• Set up elevating work platform.
• Operate elevating work platform.
• Shut down and secure elevating work platform.
Course Name:

Worksafe "WP" Licence

Course Code:

TLILIC2005 - Licence to Operate a Boom-Type Elevating Work Platform (Boom Length 11 metres or more)

Duration:

2 X 8 Hour Days

(or Accelerated 48 hours onsite and 8 hours face to face)

Location:

Hallam (East) and Willamstown (West) in Victoria.

Onsite for groups of 4 or more in Victoria, Western Australia, Tasmania and Queensland.
Participants:

Maximum of 6 students per day per trainer

Dress Requirements:

Safety shoes and appropriate clothing (High visibility vests, hard hats and all other required PPE can be provided)

Equipment

Boom type elevating work platform – covers the operation of a telescopic device, hinged device, or articulated device – or any combination of these – used to support a platform on which personnel, equipment and materials may be elevated to perform work, where the boom length is 11 metres or more.
• The 11 metre boom length is deemed as the vertical distance from the floor of the platform to the ground supporting the elevated work platform at its maximum extended position.
• A working zone to enable the candidate to safely demonstrate four lifts to a minimum height of 11 metres.
• EWP operational and service logbooks updated as per AS2550.
• All Elevated Work Platforms are required to have a 10 year major service; the details of this must be supplied to indicate this service has been completed to the required Australian Standard.

Material Required:

All material is supplied including trainees guide, workbook, resource materials, assessment paperwork and administrative documentation.

Prerequisites:

• Can use the English language at a level that enables the safe performance of high risk work. (6.7 - National Standard for licensing persons performing high risk work 2006)
• Participants are required to have general good health and fitness and any pre-existing medical conditions that will affect the training must be disclosed prior to attending.

Outcome:

Upon Successful completion of this course, participants receive a statement of attainment and are required to lodge their notice of assessment with Australia post within 60 days. Upon successful lodgement with Australia post, a Worksafe 'Licence to Perform High Risk Work – Category WP' will be posted to the applicant.